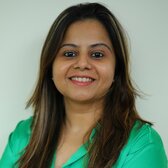 Dhwani Mehta
Senior Analyst and Asian Session Manager FXStreet
Thanks for following this author!
At the start of each trading session, you will receive an email with the author's new posts.
You've unfollowed this author.
You won't receive any more email notifications from this author.
---
Short Bio
Residing in Mumbai (India), Dhwani is a Senior Analyst and Manager of the Asian session at FXStreet. She has over 10 years of experience in analyzing and covering the global financial markets, with specialization in Forex and commodities markets. Her expertise is in assessing macroeconomics, fundamental and technical aspects across the asset classes.
Current work at FXStreet
Dhwani has taken charge of the editorial line of FXStreet's site for the Asian session since 2018. She aligns the team and their tasks towards covering all the editorial needs, focuses on the macroeconomic coverage and also advises on the different projects, strategies and products of FXStreet. Besides, she contributes to the cryptocurrency's coverage on a need basis.
Previous financial experience
Dhwani worked across top Indian brokerages and a commodity exchange until her collaboration with FXStreet in 2014 as an Editor and Analyst. Her profile then included publishing asset news pieces (including cryptocurrencies), technical analysis and covering macroeconomic events.
Educational background
Dhwani holds a post-graduate degree in Business Administration, majoring in Finance from the IES Management College and Research Centre (MCRC) in Mumbai, India. She bagged the second position during her Finance major. She also holds a Masters in Accountancy from the University of Mumbai.